There are a number of "offbeat" characters within Jesus' genealogy, a testament to God's tendency to use the weak to show his strength and to "confound the wise" (1 Cor. 1:27). We've already looked at two of these characters in this series (
Enoch
and
Judah
). We'll look at a few more in the coming weeks, starting this week with Rahab.
If you've ever followed the British monarchy or seen the Netflix show The Crown, you know the importance royal families place on lineage. For a member of the royal family to marry someone of "low birth" or of questionable character is quite scandalous. Rahab is not the type of person you'd expect to find in a royal lineage. She is Jesus' most scandalous ancestor for two reasons: First, she was not Jewish. Rahab was a Canaanite woman from the city of Jericho (famous for its walls). Second, Rahab was a prostitute by trade, perhaps even the owner of a brothel. So, how did this woman of unscrupulous background end up in the family tree of the Jewish Messiah? To find out, we go to Joshua 2-6.
The story of Israel's defeat of the city of Jericho is fairly well known. Under God's orders, Joshua leads the people to march around the city once a day for six days. On the seventh day, they march seven times and the city walls come crashing down. Just prior to this famous victory, Joshua sent two spies to scout out Jericho. They visit Rahab's house. As mentioned above, many historians conclude Rahab's house was an inn or a brothel and probably a good place to find out information about the city. While the spies were there, Jericho's king learns of their presence and sends soldiers to find them out. Rahab's response is to hide the spies. Then, after the soldiers depart, Rahab goes to the men proclaiming that the miracles God had worked on Israel's behalf had made front page news in advance of Israel's arrival. She recognizes that Israel's God must be the true God and pleads with the spies that she and her family would be spared after Israel's defeat of the city. The spies agree; they escape the city; Jericho is defeated; and Rahab and her family are saved and become part of the nation of Israel.
Aside from Jesus' genealogy, Rahab makes another prominent New Testament list: the "Hall of Faith" in Hebrew's 11. She's mentioned also in the book of James as someone whose works matched their faith. God provided a place for Rahab in his redemptive plan, first because of his grace, but second because of Rahab's faith-filled response. Rahab's cultural background and her past moral failings did not exclude her from God's plan because, in the end, Rahab put her faith in the right place. She recognized the one true God and then acted accordingly.
This is exactly the type of person God wants to work with. Unlike the royals, he isn't looking for someone of pure background, but someone who is willing to trust him and put that trust into action. This is great news for us! I have often heard people disqualify themselves from having an active role in God's plan with a mindset that says, "surely God couldn't or wouldn't want to use someone like me." Rahab teaches us otherwise. While God wants to heal us and help us move beyond our broken pasts, our pasts do not disqualify us from being a part of God's plan and kingdom. God's grace enables us to trust, to obey, and to be used for his greater purposes.
Bruchko by Bruce Olson - The true story of Olson being captured by and then living among the Motilone tribe in Colombia. His efforts to share Christ are marked by disease, loneliness, torture, simple faith and miracles. This was a required text in my seminary program and was personally impactful and faith inspiring. Click the image below to find it on Amazon.
Missions Spotlight
Russell Abraham (Global Gates)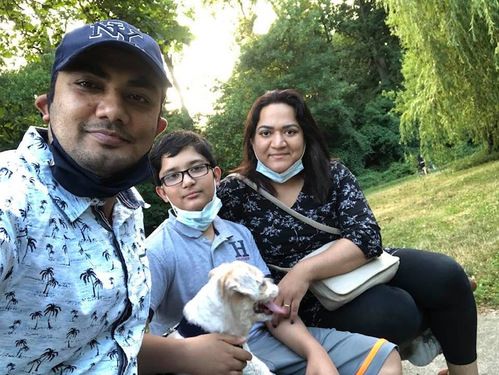 John 10:27—"My sheep hear my voice, and I know them, and they follow me".
Praise God! After a long run since the beginning of the pandemic, I had an opportunity to take a break, and get some rest. It gave me a chance to review how God has been using us. God is so good. He showed me during this time about the great importance of maintaining a close relationship with Him through prayer and meditation on His word, so that I can maintain a good relationship with other people who God has led me to reach. God showed me that I cannot truly love others without loving Him first.
As God teaches us in the Bible in Matthew 22:36-39—"You shall love the Lord your God with all your heart and with all your soul and with all your mind. This is the great and first commandment. And a second is like it: You shall love your neighbor as yourself.
Look carefully here in these verses, what Jesus tells us, the second commandments like the first one, "You shall love"… here God wants a love relationship with us, so that we can love our neighbors. Scriptures also describe the 'love' such in 1 Corinthians 13:4-8
—Love is patient and kind; love does not envy or boast; it is not arrogant or rude.…
PRAY FOR
over 200 believers trained to reach out to their OIKOS. M background believers who never spoke openly about their beliefs are now speaking publicly on the virtual meetings and in person. They are sharing their testimonies and sharing the Gospel with others. This is an answer to our prayers.
Hundreds of Muslims background believers
came to faith in Jesus and were baptized through our network in Bangladesh and here in the US. We are adding new believers in a weekly Bible Study and seekers are meeting virtually with believers in a discovery Bible study. Praise God!
1 Corinthians 3:7
—So neither he who plants nor he who waters is anything, but only God who gives the growth.
Please keep praying to see movement among our people (200 Million Bengali speaking Muslims).

Prayer Requests:
PRAY for our new brothers and sisters those who are added into our family, that they would grow multiply.
PRAY for seekers, so they would find joy and peace in Jesus !
PRAY for our Community, that God would open the eyes of Muslim to discover the truth in Jesus.
PRAY for us and for co-worker, we all are avoiding crowed and in-person meeting, but doing virtually.
Click here for more on Global Gates.