Spiritual Discipline 10 - Memorizing Scripture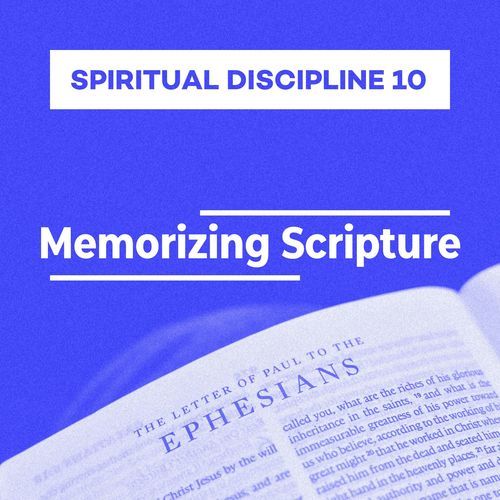 If you grew up in the church, the title above may instantly bring you back to your Sunday School or Vacation Bible School days when memorized Bible verses earned you a piece of candy or a happy meal toy. While these incentives are great to plant the seed of God's word in the hearts of children, the real reward for memorizing Scripture is much greater.
But… why memorize when you can easily have searchable access to the entire Bible right in your pocket (I'm speaking of Bible apps of course)? This unprecedented level of access to Scripture is a wonderful thing, but it misses the deeper purpose and reward for memorizing the words of Scripture. Scripture memorization is about so much more than simple recall or base level knowledge, rather it's about your heart. Memorizing the words of Scripture tattoos the message of the gospel story in the depths of your being, spiritually forming you from the inside out. Even if, down the road, you can't recall the exact wording of what you memorized, the message and concepts will forever impact your character, your relationship with God, and your actions in the world.
I have stored up your word in my heart, that I might not sin against you.
- Psalm 119:11
How can a young man keep his way pure? By guarding it according to your word.
- Psalm 119:9
This Book of the Law shall not depart from your mouth, but you shall meditate on it day and night, so that you may be careful to do according to all that is written in it. For then you will make your way prosperous, and then you will have good success.
– Joshua 1:8
But he (Jesus) answered, "It is written, "'Man shall not live by bread alone, but by every word that comes from the mouth of God.'"
– Matthew 4:4
Method
If you've never really memorized Scripture before or don't feel confident in your ability, start with a verse at a time. A ministry called The Navigators has a great compilation of verses, arranged by topic, you could start with.
Check it out here.
If you have memorized before or feel you have a pretty good ability for the task, I would encourage you to try memorizing larger passages (5 or 10 verses long), full chapters, or even full books. Scripture was never meant to be split into a million standalone segments. The real message is in the larger context; that's where the real richness dwells. Several years ago, I was struck by the realization that Jewish children in days past used to memorize the whole of Torah (the first 5 books of the Bible)! Surely I could do something a bit smaller. Now, I can tell you from experience, it's doable! Some of the New Testament letters are only a few pages long and yet are filled with riches beyond measure!
How exactly to do it will probably vary from person to person. Do whatever works best for you, but repetition is key. My own method is pretty simple. I take one phrase at a time. I read through the phrase aloud a few times, then I try to say it without looking. I check my accuracy and keep repeating until I feel I've got it. Then I do the same thing with the next phrase. Once confident in that one, I add the two together. I simply keep repeating this process, adding one phrase at a time.
But to really get it to stick, it helps to dwell on what you're memorizing. What does this mean? What significance does this have for my life? What does this tell me about God, about me or about the world? Ask these kinds of questions intermittently as you memorize and the words of Scripture will sink down deep into your soul.
Email
sean@gfcnj.com
Finding Joy in the Simple Gospel Again
- This article from Ed Stetzer was a refreshing and inspiring read, much needed in the doldrums of COVID-19. He reminds us of the surpassing glory of the gospel and of the joy that comes from sharing it with others.
Metro District Vision Video
- I love being a part of The Christian & Missionary Alliance and I am thankful to be a part of our Metro District. This video gives you an inspiring glimpse of the larger vision we at Grace get to be part of.
Missions Spotlight:
The Alliance
As mentioned above, Grace Chapel is part of an international family of churches called The Christian & Missionary Alliance. Completing the Great Commission and bringing back King Jesus is at the heart of the Alliance. In addition to being part of the Alliance World Fellowship, which has national churches in countries all over the world, the US arm of the Alliance currently has about 700 missionaries on the field, most working amongst the least-reached peoples of the world.

At Grace Chapel we have specific partnerships with Alliance work in the Holy Land and east Asia, but a large percentage of our missions budget goes to the Alliance Great Commission Fund. This central fund supports the living and ministry expenses of Alliance missionaries all around the world. Here's the latest update on GCF giving and international Alliance work from our president John Stumbo.